"Our knowledge is the amassed thought and experience of innumerable minds."
–Ralph Waldo Emerson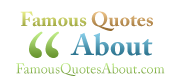 For a long time now I've run stunt double websites to test different promotion tactics in the wild, rather than doing the experimenting on my corporate sites.  This quote site was one that I actually started having some fun with, and I've had a lot of time on my hands recently, so I decided to make this the first of a few fresh projects that are going in the incubator.
Why quotes?
Well, I've always wanted to inspire millions of people, and by my math, it's actually possible this already has.   People love quotes; they're a great way to make yourself sound smarter than you really are.   There's also virtually no maintenance necessary on the site, and it's designed to promote itself virally over time.  And, it's been too long since I've seen fun charts like this one: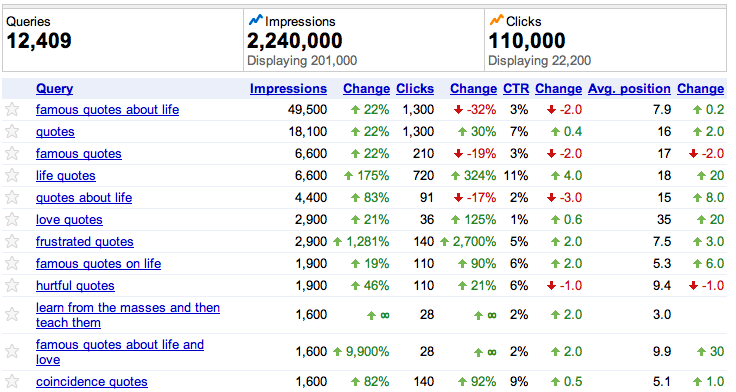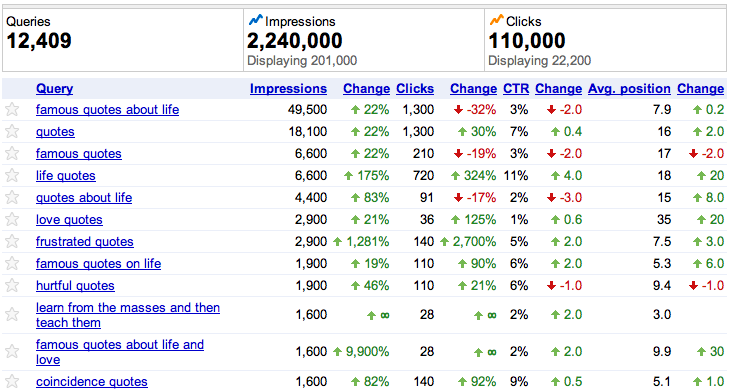 Comparing a variety of data that I took from DoubleClick, Compete, SEOMoz, and Alexa, this site is in the top 30 famous quote sites already (easy!).  The goal is the top 3 in 1 year at around 10 million pageviews/month, and to be #1 in 3 years, which would take around 50 million pageviews/month if all stays constant (hey, anything worth doing is worth doing well).  If you get down like this, here's how you can get follow the quotes in your favorite social media:

Facebook

Twitter